I'm working on a 3-axis, double inline font, set up like this: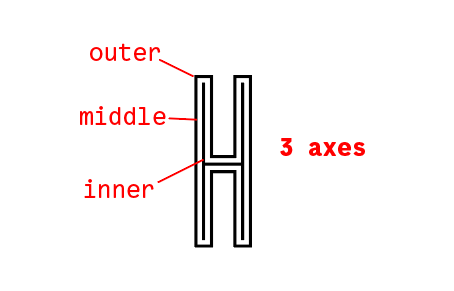 Each stroke has 3 states. Bringing the total number of masters to 27. There are masters at the 0,1, and 1000 values for each axis.
Full thickness
Minimum visible stroke thickness
Invisible (all the points are collapsed onto a single coordinate)
When I export it as a variable font, everything looks correct, and I'm able to vary the thickness of each stroke. However, when I export static otf's, I get a different result at the same instance axis values. (Axis values of 0,550,1000)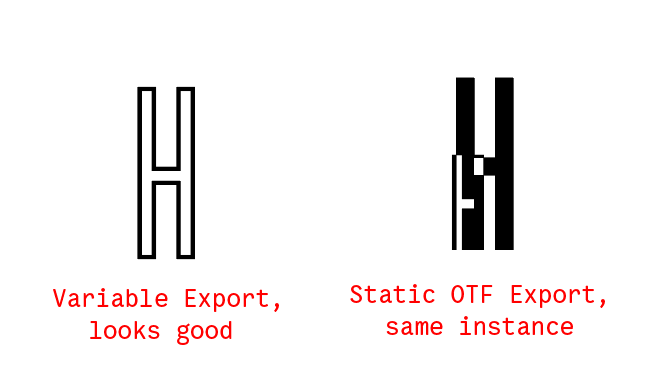 The same issue is also present in Glyphs.
It's most likely something I've set up incorrectly, but I've quadruple checked to make sure contour order, and axis values are correct. It almost appears as though some of the intermediate masters are being ignored. Is it possible this is a bug in Glyphs?
A few other things I've noticed.
If the values are in between masters, it's fine. For example (0, 550, 900), looks fine.

I've tried debugging with a different master at 0, so I don't think it's related to all the points being collapsed onto one coordinate value

I've tried a few different versions of Glyphs, all have the same issue. (bleeding edge, most recent stable, and 2.5.1 (1141))
I'm also attaching file where the issue is present. Note that it only has the H glyph. The masters are named with a naming convention, where three digits representing the axis values. For example m-012, (inner is at 0, middle is at 1, and outer is at 1000).
To narrow it down, using an instance of 0,550,1000. The interpolation should be using masters m-012 and m-022. But it appears to be using m-002 and m-022.
KickerDebug2.zip (90.7 KB)
Thanks for any help!