I have a Lcaron that is composed of two components that are automatically aligned.
When I copy and paste the same two components into the Ldot, they refuse to be automatically aligned. It will show the glyphs are in gray but also give an option for Disable Automatic Alignment even though they aren't aligned in the first place.
There is also another message that says Automatic Alignment is Disabled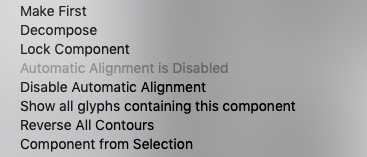 I've tried disabling and renabled with the double-click menu and also mekkablue's Alignment Manager.
As I keep testing, any component I put into Ldot is refusing to be automatically aligned.
Any idea what the issue is?
3.1.1 (3141)