Hello everybody,
I modified a typeface and started with a third party software but found Glyphs App during my process.
When I opened the modified OTF in Glyphs App, I couldn't export it, because the previous software wrote over 20K kerning pairs for some reason. So I got rid of all the kerning data and wanted to copy and paste it from the original font.
So far so good but the kerning groups seem to be unlinked right now. When I klick on a pair in the kerning window, only the golden marked individual kerning area with no @ symbol attached works properly. What I noticed is that the order of characters in the font window looks different from the original, but the unicode for each letter is the same. Maybe it affects something.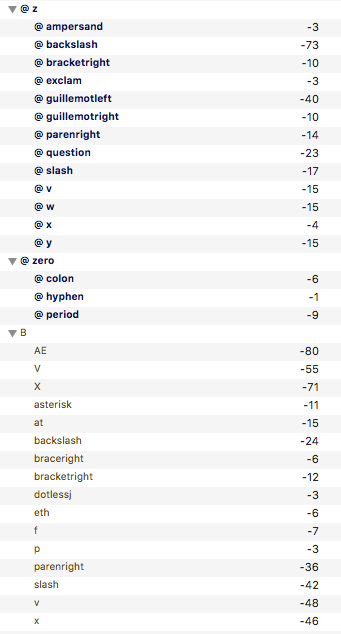 Is there a way to link the original kerning data in my case?
Glyphs Version 2.4.4 (1075)
Thanks!