Hi,
I'm getting an error when trying to open any otf file, like this:
The document "Bariol_Serif_Regular.otf" could not be opened. Error while reading the document: /Users/graham/Documents/Font Doctor New Font Library folder/B/Bariol-Serif-Complete-Desktop/Bariol_Serif_Regular.otf
(-[__NSCFLocale decimalSeparator]: unrecognized selector sent to instance 0x6000000f5200)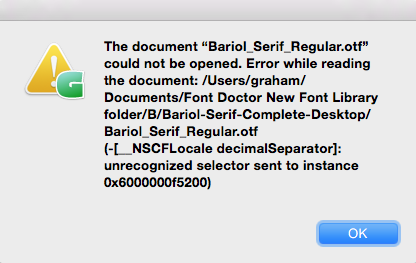 Glyphs Version 2.6.6 (1352)
Mac OS: 10.10.5
Its on a machine with an old Mac OS I know (needed in order to run some old Adobe CS programs). Any suggestions how to fix? Thanks!
Graham