My Glyhps crash and close when I want to edit background.
System 10.10.3 / Glyphs Version 2.1.1 (778)
Cheers, ET
Do you have speedpunk active?
Hi,
Installed but not active.
ET
Hi George,
Do you see this bug or is it only in my system?
You need to the send the report that comes up when you restart the app. Did you add your name to the crash?
Hi Georg,
is this a known bug? My Glyphs, v. 2.1.1 (768), crashes every time I edit the background while the SpeedPunk tool is active. I noticed a similar problem when I would use that tool in Glyphs 1.4.x. Then it was a minor problem (screen freezing) that could be solved selecting another tool. Any news about this issue?
Thanks,
Juan
Can you check if you have a GlyphsApp.py and GlyphsApp.pyc file in your Script folder? If you have them, please delete them.
I read someplace that you were planning on scraping those files, since they created unnecessary problems. Have you decided against it?
The latest cutting edge version is trying to delete them automatically. But he is on the stable version.
Hi Georg,
Glyphs don't allow edit backgrounds on MM files.
When I press command B, the background appear as a solid pink background without the copied glyph.
Glyphs 2.1.1. (782)
Yosemite 10.10.3
Cheers, ET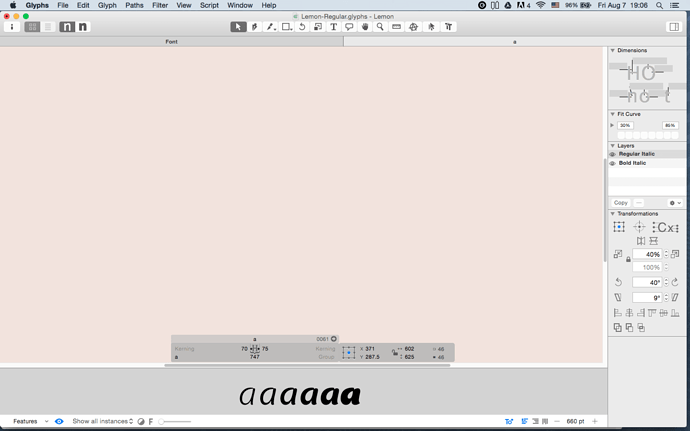 And then you should be able to paste your glyph inside the pink space.
I can't paste outlines to background and only occur with MM files.
Cheers, ET
Well, I have been doing this (Cmd+B) all day, so I am guessing a bug.
Do you have "Show Background" active? And "Show Metrics"?
Hi Georg,
Both options are active.
Can you send me the .glyphs file?
Of course

Just sent a mail with .glyphs.
Thanks a lot Georg! That solved the problem!
Hi Georg,
I found the problem.
Deactivating Show Expand Paths Preview we can edit background on MM files.
Cheers
ET
That is an old custom plugin that is not needed any more as Glyphs 2 has this build in now (It is called "Show Preview Offset").
Please delete that plugin.