Hello! I was wondering how can I make a feature in order to make a font with different widths so each letter has a wide and a condensed version and with the features you make them all be wide-condensed-wide-condensed …etc when in use.
I tried to make alternate substitutions by creating two classes @wide @condensed and making them a calt feature sub @wide @wide' by @condensed;
this worked only in one letter, the rest of the letters in the group didn't care.
I tried two ways to set the groups.
First I had @wide with A B C and @condensed with A.ss01 B.ss01 C.ss01
It didn't work. Instead I made @wide A B C and @condensed a b c. This time it only worked with the Aa meaning that when i wrote AAAA i got AaAa. It's a little step.
I wonder if the calt feature will only change each one letter for the other version if they appear twice but not detecting the situation and seeing that if the letter before was a wide then the next one will have to be a condensed one no matter what letter it is.
It's a little hard to explain but I tried my best.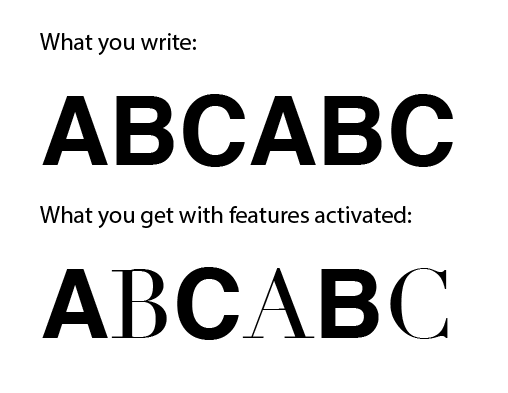 Example: To give you a reference, what I'm trying to do it's that I write GOOD MORNING and get GoOd MoRnInG.
If you could please tell me what I'm doing wrong or some other way to make the feature that would be great! Thanks!