Glyphs 2.6.6 (1352)
I am helping a colleague troubleshoot problems with font style mapping in Powerpoint. The issue is that styled text in Powerpoint are falling back to other styles of the family. I have examined the fonts output from Glyphs, and my thinking is that the problem is due to the Mac platform name ID1 and ID2 setting, which are contrary to the OT name table spec recommendation that these IDs should be used for four-style 'RIBBI' families on all platforms for greatest compatibility. There seems to be an assumption in how Glyphs writes the name table that the platform IDs actually correspond reliably to what apps on particular platforms use. This is not a safe assumption, especially in the case of ported apps.


So I want to export fonts in which either
a) the content of name table platform entries is the same for both Mac and Microsoft, i.e. for both to use ID1 and ID2 to identify four-style families and subfamilies; or
b) the name table contains entries only one platform (Microsoft), since these are all exporting correctly with my current Instances settings. [A lot of modern build processes omit the Mac platform name entries altogether: Mac OS can parse the Microsoft platform IDs perfectly well.]
How can I achieve either of these solutions in Glyphs? I am guessing there may be some magic combination of Instance name parameters to achieve (1) but I have not found it yet. What I have managed to do at the moment, bizarrely, is end up with some double entries of style as part of the family name, even though this doesn't reflect what is in the Instance parameters.
This is a redacted set of the Instance name parameters for one instance of the font family: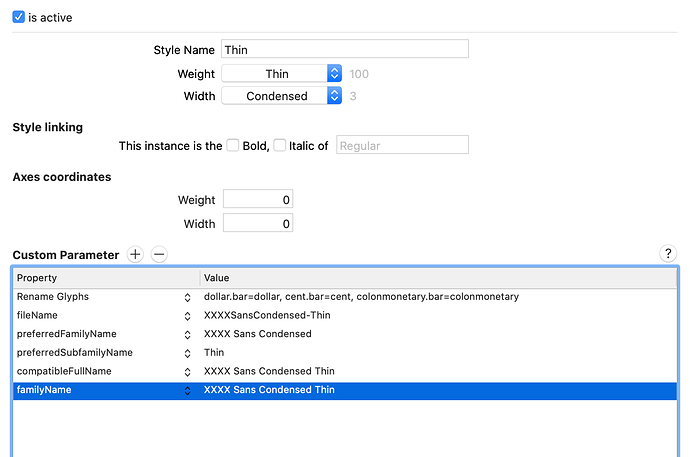 [The compatibleFullName entry was inherited from someone who worked on the source previously; I doubt it is necessary, but also think it should not be messing anything up.]
What these settings output to the name table is this: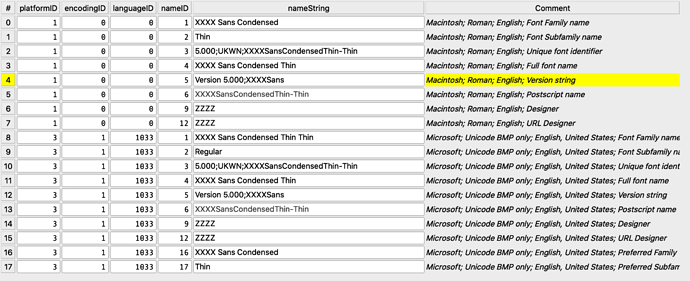 Note the weird duplication of Thin Thin in the Microsoft platform ID1 and elsewhere.