With using Fit Curve as a way of maintaining/recreating consistent curvature but what I am finding it lacks is a way of controlling all parts of a curve segment.
There are essentially 4 nodes in a segment that would control the shape of a curve. Fit Curve adjusts the balance of the off-curve handles and the on-curve nodes have to be adjusted manually.
I find it is a lot of back and forth trying out a curvature in the Fit Curve in sidebar palette and then going back to the outline in edit view window.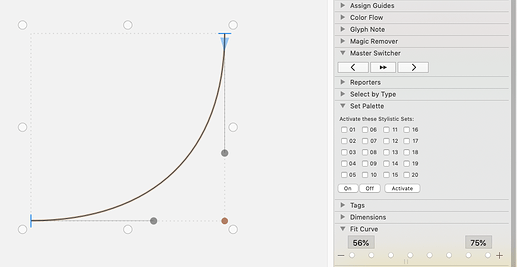 I wish there was a way to also control the positioning of on-curve nodes in the segment all from the palette sidebar. Maybe this is a separate thing in the sidebar (maybe like when fit curve had the 2D view) or maybe there is a way to embed it with the current Fit Curve. In any case, it would be incredibly useful to be able to control these 4 points with precision and consistency.
This would be particularly useful when used in tandem with Corner Components which already create a level of abstraction from the outline…it would be a step in reducing that abstraction and allowing for greater control.
Also, this would be helpful for curves with angled handles so that if you're changing the position of the on-curve nodes, it would retain the existing angle relationship with its corresponding handle.