Hello,
even though "automated alignment" is switched off for importing *.ufo files, Glyphs adds/activates "automated alignment" for an *.ufo file i'm importing. I noticed this with Hbar – comparison below.
*.ufo opened in Robofont:
Metrics = 29/29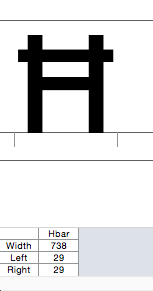 *.ufo opened in Glyphs:

after turning off "auto alignment" in the Font Info:

Seems like I've lost 8-9 units during the import. Am i missing something? What's the correct way to set the preferences right before importing an external *.ufo file?
Thank you
Johannes