The plugin is now in the Plugin Manager:
Install Guten Tag in Glyphs
---
Yesterday I learned about tags in Glyphs. When you select one or more glyphs in the font view you can tag the selected glyphs with the Tags field in the lower left.
Tags can then be used in feature code like so:
# class of all glyphs with some tag
[$[tags contains "sometag"]]
# class of all glyphs without some tag
[$[not tags contains "sometag"]]

They are immensely useful to my workflow so I also want to see and edit them from the edit view. That is what Guten Tag does: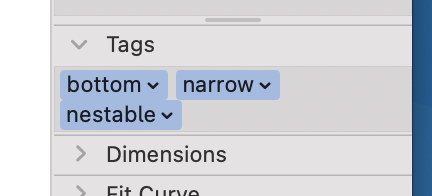 You can view, add, remove, and overwrite tags. Clicking on the little triangle to the right shows a list of all glyphs with the selected tag.
That's it! Guten Tag is my first attempt at a Glyphs plugin so I expect there still to be many rough edges; do let me know if anything does not work or look like it should.
You can get the plugin from GitHub:
https://github.com/florianpircher/GutenTag
---
Some notes:
I did try to translate the few words that are required for the UI, but I did not hire a professional (the project is just too small in scope). If you speak a language you can check whether my translations are incorrect/missing by looking at the translation tables.
I tried to implement autocomplete, such that tags that exist on other glyphs are suggested when typing a new tag but tokenField:completionsForSubstring:indexOfToken:indexOfSelectedItem: crashes the entire application regardless of what value I return. Maybe an experienced plugin developer can tell me what I am doing wrong.