I've been trying to get one of mekkablue's scripts running, and am having some trouble. Firstly, just double-clicking on it in the Finder, as suggested in the manual, caused it to be opened by Xcode, so I asked for the script to be opened in Glyphs, and I got this error message: "The document "New Tab with Fraction Figure Combos.py" could not be opened. Glyphs cannot open files in the "Python Script" format."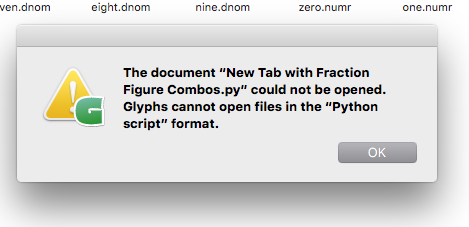 Opening the Scripts Folder via Glyphs has the same effect.
Before doing this, I did click on the Preferences → Addons → Modules → Install Modules to install Vanilla etc., and got the same lack of confirmation (or notification of error) that someone else did. From the replies to their post, I gather this is normal.
So, what really obvious thing am I missing here?