Hiya! This is probably a very basic question…
I had imported a Devanagari project that I had started in Robofont, using a different character working-name scheme and feature code than the setup you've provided us in Glyphs. The only thing I relied on Glyphs for, feature-wise, was the automatic mark feature generation. I've had no problem exporting the fonts, and they've been working properly in my tests in InDesign and in other environments.
However, the tech team I am working with (who are Robofont-based) have taken the .ufos I've generated from Glyphs to do some of the final work on them (merging with a Latin, setting up the font naming table, etc). They've said that upon export to .otf, come of the glyphs are assigned incorrect unicode values as their final glyph name.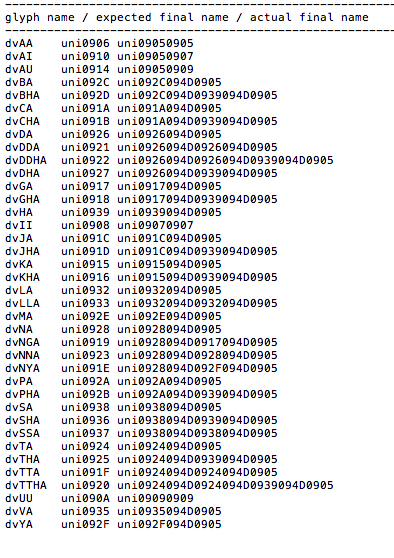 I never altered the GlyphData.xml file to match my naming scheme. Is this the cause? What might be the easiest fix for this?