When I name anchors RSB or LSB they change shape to start and end markers.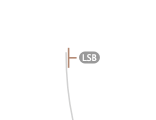 I could not find any documentation on this special behaviour.
Is there a way to have the side bearings to ignore certain components?
Or to use these anchors to define the bounds of a glyph where the RSB and LSB are calculated from?