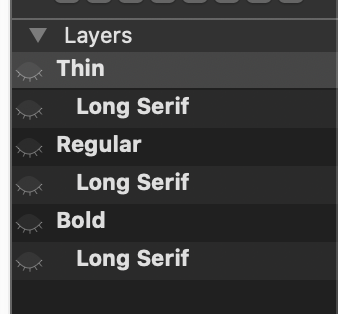 The component is an uppercase stem for Latin, with a smart layer Long Serif for longer serifs on one side. The main layers have symmetrical serifs.
Long Serif is setup as a Smart Component Property from 0–100. The master layers have a value of 0 and the Long Serif layers have a value of 100.
When I choose Regular Long Serif layer and try to Re-interpolate Glyphs gives me a stem with symmetrical serifs (the interpolation of the master layers, not the sub-layers).
This Re-interpolation bug happens only once I setup Smart Components in this scenario. If the above image layers are merely masters and copied layers then I am able to get the correct results from Re-interpolating Regular Long Serif layer.
This is a new file to make sure it's not a legacy bug not ironed out in an update, I'm on 2.6.5 (1339). I get the same results on the stable build. Am I doing something incorrectly?