Hello!
I have a question that I don't know if it's a problem in Glyphs or InDesign:
My font contains various DLIGs, including many f-ligatures. These work perfectly in InDesign. Additionally there is a Style Set, which gives k an "descender"/swash. This also applies to the fk-ligature. BUT, the Style Set is only displayed if there are at least 3 spaces (B) between two groups of letters. If there is one or two spaces (A), the Style Set do not work!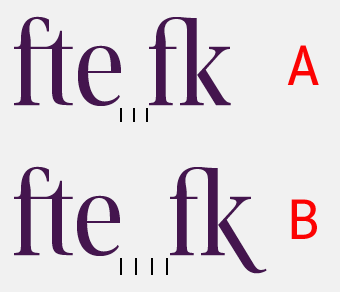 What could be the reason?