Hello, I noticed that, in a specific case, the recognition of unsynced metrics doesn't update correctly.
I have numerous glyphs where my metrics keys are out of sync, but they don't have a warning triangle and don't show up in the smart filter.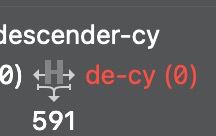 Even after closing and re-opening the file, the glyphs in question don't change.
Some details, in case this is important: I had the metrics key set to de-cy before having drawn it (so the metrics were correctly synced in other glyphs as 0). I drew my outlines in de-cy and thus now have metrics set, meaning that the metrics keys are, of course, out of sync now. However, they don't show up in the smart filter. Layer.metricsKeysOutOfSync() also returns 0, meaning that they are considered in sync.