I installed the newest version today and discovered a small issue with an original file from the previous vesting.
ALL my glyphs ended up with the same info as shown below including all groupings. This created a big problem with a font I am working on where the kerning is an important part of the overall concept. As it happen I was able to retrieve a previous version . I don't know if this is just me or an issue with the new download.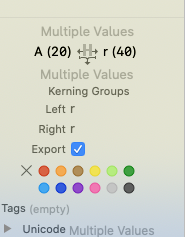 This Should have shown as All cap A's all my dialogue boxes have the same info, no exceptions.