Hello,
I'm having trouble with positioning after substitution. (Image attached for reference)
In Odia, the vertical stems of the characters connect to the vertical stems of the bottom matras. The widths of the vertical stems change for different sets of characters. For each set there is a width-specific MatraU, namely MatraU_Set1, MatraU_Set2, MatraU_Set3 which attaches to the vertical. Substitution codes are written accordingly and they work: sub @Set3 MatraU' by MatraU_Set3 and so on.
For Ka + MatraU, the substitution and positioning of MatraU_Set2 works.
But when I type Ka + Halant + Ka + MatraU both the substitutions, i.e., KaKa and MatraU_Set3 work but the positioning of MatraU_Set3 doesn't work.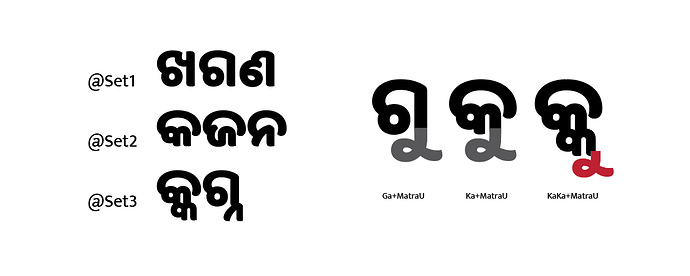 This is not a problem when I generate using AFDKO. It occurs only when I generate a ttf using glyphs.