What does this blue exclamation warning triangle mean? Can't find any documentation about it…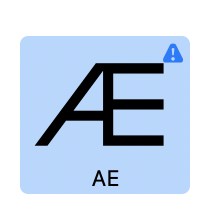 it shows up when some metrics keys are out of sync. When you hold your cursor on the triangle tool tip should appear.
Oh, i see … this used to be yellow
now it's blue for some reason…
It is in your system's highlight color. Yours happens to be (the default) blue. But whatever you set it to in System Preferences.