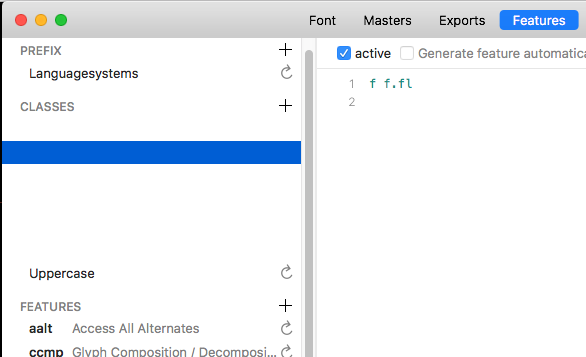 They are shown for me in 3.0.4 (3092). What Mac OS version do you use?
Macos Sierra 10.12.4 (16E195)
I just checked in 10.11 and 10.13 (my 10.12 broke). And it worked in both. And I don't think I changed something in the mean time.
And there is one class that is shown. It might be that you have several classes without names?
Can you send me that file?
Hey! How are you doing?
The same problem here!
Mac OS 10.12.6
I think this issue has been resolved. At least for me on Macos 10.12.4 in Glyphs 3.1 (3133) everything works correctly.
But in previous versions (when I had bugs on Macos 10.12.4), I created new classes not by adding a new class, but by copy-pasting the old class, and then editing it.
I also recommend checking the names of Feature classes.
Previously, class names had to be prefixed with @. Now you don't need to do this.