Minor bug:
Importing features.fea file that includes class names starting with @_, e.g:
@_2 = [absNumberSign.2 absYearSign.2 absFootnoteSign.2 absPageSign.2 absSamvatSign.2 absEndOfAyah.2 absEndOfAyah.alt.2 absEndOfAyah.altB.2];

Glyphs (Version 2.4.2 (1037)) doesn't seem to recognize these as classes because they are ending up in the Prefix section rather than the Classes section: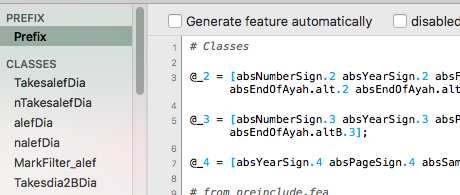 It does compile OK, which is why this is a minor bug. But these class names are valid by the spec:
The part of the glyph class name after the "@" is subject to the same name restrictions that apply to a glyph name, except that its maximum length is 63.
and
A glyph name may be up to 63 characters in length, must be entirely comprised of characters from the following set:
A-Z a-z 0-9 . (period) _ (underscore)
and must not start with a digit or period. The only exception is the special character ".notdef".
"twocents", "a1", and "_" are valid glyph names.