Hello all. I'm having an issue getting some Devanagari conjuncts to trigger. Specifically, k_t_ra-deva refuses to work in testing (Adobe Illustrator).
Here is how it renders in Illustrator:
(top line is a stock OS typeface, bottom is my typeface)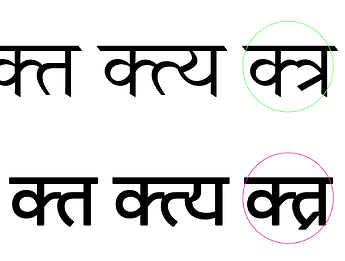 It appears to be rendering k_t-deva with the Rakar stuck on.
I have added the correct conjunct glyph through the Glyphs interface and designed it: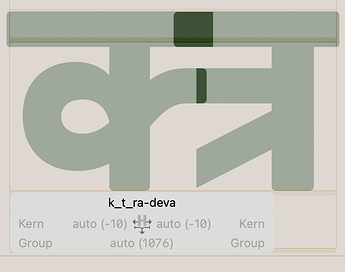 …but it will not trigger in Illustrator no matter what I do. I've tried updating+compiling all the Devanagari features in the Features tab. I've copied and pasted text using this conjunct and it works in other fonts but not mine.
Weirdly, other conjuncts are working, like k_ka-deva, k_ca-deva, k_t_ya-deva, k_t_ra-deva, n_da-deva, s_ka-deva. Is there something happening with Half Conjuncts (as opposed to Linear Conjuncts) that I am missing? I have the necessary half forms already in designed and in place, but no dice.
Thanks for any assistance.