Hi
i was working on a font and realized ZWJ and ZWNJ did not apply for text mode of the glyph edit window.(they are working in text preview window without kerning support.)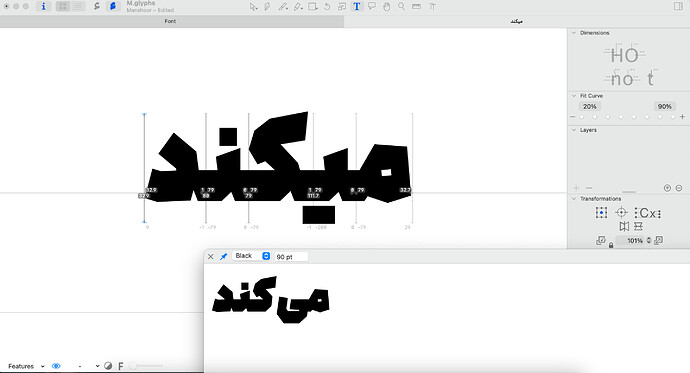 as you know ZWJ and ZWNJ are control characters. ZWJ reset the glyph shape to the connected form and ZWNJ reset the shape of the glyph to isolated form. they could be added from both sides to the glyph and interfere in opentype init/medi/fina/isol works. here are some examples: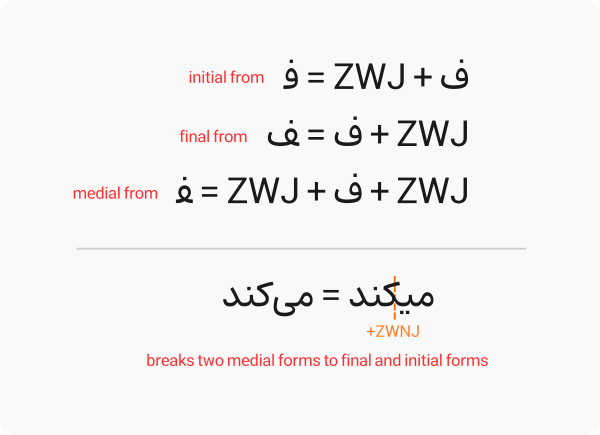 (to choose between display or not to display kerning in Glyphs app:)in harfbuzz both ZWJ and ZWNJ are ignored from the kerning between two glyphs. i don't know the concept comes from the ot spec or not, but this is a good strategy and makes a lot of works easier. also in some shapers(like DW) ZWJ and ZWNJ are not ignored from kernings. i don't know which way Glyphs would follows, but harfbuzz method is better IMO.
final result in firefox(harfbuzz):(there is negative kerning between yehFarsi-ar.fina and kaf-ar.init and it's working with a ZWNJ beteen them(compare with text preview in the first image))