Hi folks!
Yesterday I was experimenting with adding a width axis to a typeface I'm working on. I had already done the normal weight masters. I added two more narrow masters and adjusted the width but didn't adjust the weight. So as you can probably guess, as the bold instances got narrower they got cramped and felt relatively bolder.
Either I can change the new masters to be lighter, or do some weight tweaks in the instances. Tweaking the instances seems quicker. Which leads my to the question: "How do I progressively reduce the weight value as the instances get narrower?"
The quickest solution would probably be to do some manual tweaking/testing of different weights, and then do manual interpolation math and change the weight value in each narrower instance. But I thought it would be fun and challenging to come up with a UI for it.
Here we go
So I'm aware of mekkablue's Insert Weight Instances. It works well for getting the weight distribution right, and has some features I want. It doesn't support multi axis and shifting.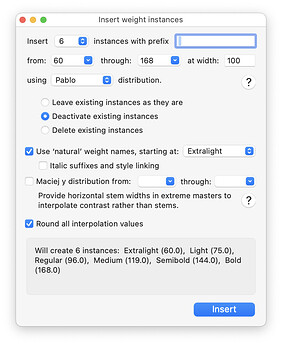 There is also Superpolator(Retired) which I don't know that much about. And then there is Skateboard which is somehow related, and is a tool for RoboFont.
So, like I said I wanted a little UI design challenge: I decided to create a mockup of tool that would solve my problem. Inspired by some features from Insert Weight Instances and Superpolator, and came up with this: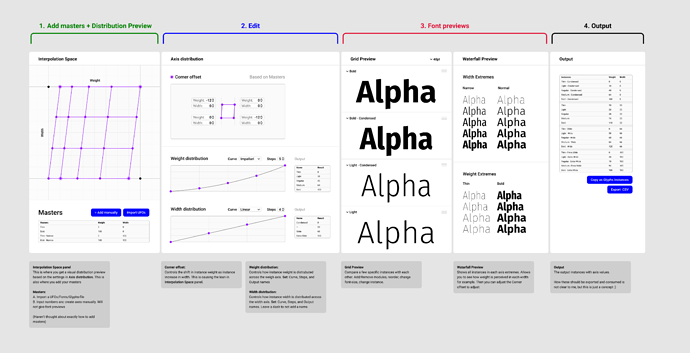 (See detailed descriptions in image)
It's essentially an instance editor, with some fixed assumptions of how to lay out instances, and with a few options to tweak the results.
There's probably a bunch of problems to the concept that I haven't thought of, the terms are probably a little off, and it might be an overkill of an interface. Maybe, maybe not.
Either way It was a good one-evening challenge and I thought it might inspire someone to create a plug-in/application that can make it easier to create multi axis(oh well, 2-axis) font systems.
Happy to discuss and explain if someone is interested.