Hello,
can I named a glyph:
.circled.ss01
or is that not very clever? .XX.XX
its for the attached case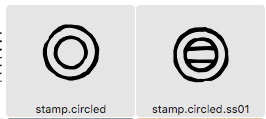 Hi,
I think that the right way is
stampcircled and stampcircled.ss01
Is there also a stamp? If so, do it like you suggested. If no, donut like @etunni wrote.
nope
ok – gr8 THX
so is ONLY 1 dot allowed in the fontname?
stamp.circled YES
stamp.circled.ss01 NO
stampCircled.ss01 YES
You can have as many period suffixes in a glyph name as you like. Just the first part needs to be something meaningful. Stylistic sets usually are replacing a default glyph (without a period in the name) by a glyph with one that has a .ssXX suffix. Sometimes you have several features on top of each other, like a.sc.ss01.
THX – so all three works:
stamp.circled
stamp.circled.ss01
stampCircled.ss01
Yes. But if there is no stamp, the first suffix makes no sense. I recommend stampCircled without and with the suffixes you want to have. Think of suffixed glyphs as variants of unsuffixed glyphs.