Installing Speed Punk from the plugin manager in Glyphs 3 works for me on macOS Big Sur 11.1
installing Speedpunk worked here as well, but when trying to open a font…


(no other extensions installed)
Hm, I have selected Python 3.8.2. Other than that I have no idea what part of the setup might differ.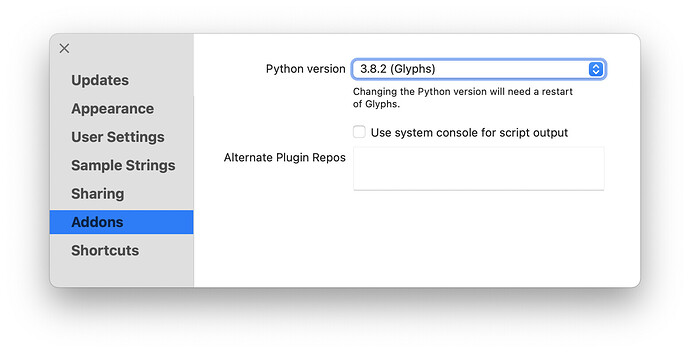 I switched from Python 2.7.4 to 3.8.7, but it still freezes with Speedpunk installed.
If I switch to Python 3.8.7, Speed Punk does not work.
Try installing the Python version as provided by Glyphs from the Plugin Manager → "Modules" → "Python" and in Preferences → "Addons" choose the one with "(Glyphs)" after the version number (like in my screenshot above).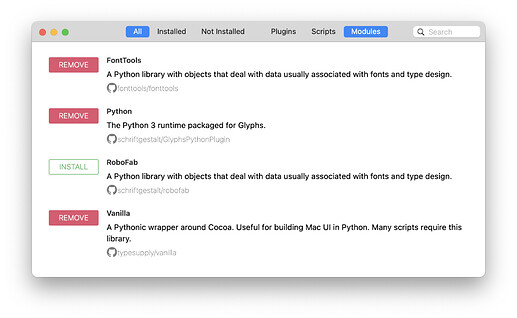 That special Python version works, thanks! And I thought I would have less stress with Python versions and modules on Mac than on my PC

In the meantime I sent a crash report and Georg is solving problems.
I love Speedpunk on wild glyphs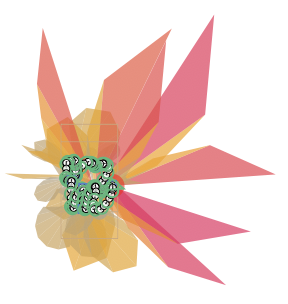 JesusLovesYourPunk
Ahhh - Option+Shift works.
I did not install Speed Punk. Now that I'm back in I'm going to use the Plugin Manager and uninstall all the plugins from yesterday. Thank you so much for looking into this.
Edit: Uninstalling plugins works! no more crash
Full Crash Report uploaded as PDF:
Glitterturd-CrashReport-BigSur.pdf (98.7 KB)
I was having this problem in Catalina over the weekend. I just upgraded to Big Sur, in part to see if that would fix the problem, but it didn't. Using Option+Shift doesn't help get the program running, in my case. I did update my system Python at some point before the crashes started. Wondering if that's the issue for me. I'll do some tweaking, but if you have any ideas, I'd love to hear them. Thanks,
Alec
crash.pdf (157.6 KB)
Try the latest beta please. Go to Glyphs > Preferences > Updates, activate both checkboxes and press the Update button.
The crash report suggests that a plug-in crashed the app. I would try restarting the app with Opt+Shift again (and make sure you do not accidentally hold Ctrl or Cmd instead).
Just the text would be a better idea (and save some bandwidth), no need to convert it to a PDF.
The crash is in the Noodler. It should be fixed by now. And Glyphs should update the plugins automatically. Start with Option+Shift or open the plugin folder (In Finder, press Command+Shift+G and paste ~/Library/Application Support/Glyphs 3/Plugins). Remove the plugin and reinstall it form the Plugin Manager.
Removed it manually, that did the trick! (Opt+Shift still didn't work for me.) Thanks!
Then there is something else wrong. So far, when Opt+Shift did not work, it has always been the case that people held the wrong key combination.
Option key = Alt = ⌥
Shift key = ⇧
Are you really holding exactly these two keys? (And none of ⇪ Caps Lock, ⌘ Command, ⌤ Control.)
Still no dice? Please go to System Preferences > Keyboard > Keyboard > Modifier Keys and click the button Restore Defaults, then try again: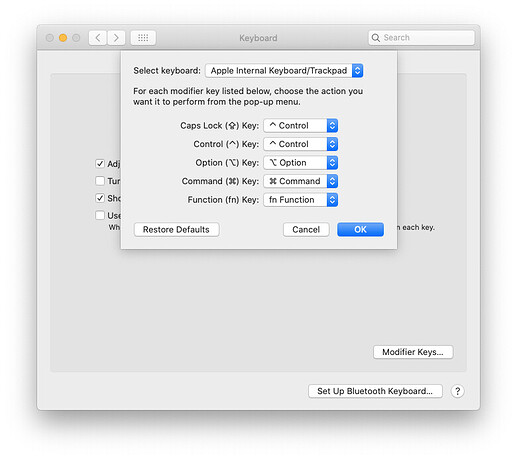 I'm facing similar issues.
Currently using Glyphs Version 2.6.6 (1350).
I first noticed that speed-punk was not working after uninstalling and re-installing it (on Catalina). Tried updating Glyphs to the cutting-edge version. Tried uninstalling-reinstalling the plugin to check if it shows up. It didn't.
In the spirit of updating, I updated to Big Sur as-well. Then Glyphs started crashing. Opt+Shift did the trick. I've currently uninstalled all the plugins.
Crash report :
Can you please send the crash report as a text file?
Speedpunk should work in Glyphs 2 again.
I tried using this again today on the system that has Big Sur installed. I also Installed the latest update for glyphs. The preview panel doesn't open. It hangs. If I open Glyphs with the preview panel enabled, I can't open the font file.
I installed Mag Os Big Sur and plugin manager seems not to work as it crashes all the time.
It is a MacBook Pro processor Intel
A report has been send yesterday (saturday the 16. january)
Can you try the latest cutting edge version (activate it in Preferences > Updates)