Hello,
I've been working on a Gurmukhi script typeface and have run into another tricky issue. There is a character that has two diacritic marks that are running into each other. However, in most Gurmukhi fonts, this is not an issue.
Top: how it should look
Bottom: how it looks in my typeface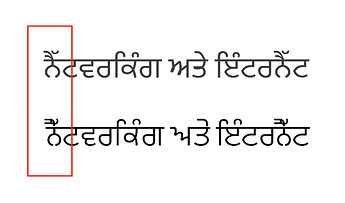 The issue is the "na" character with both a dulavan and an addak. This combination is used in worked like "internet". The addak appears to be smaller than the usual combining diacritic.
I've tried copying and pasting the complete character and making it a new glyph. This works, and I can manually adjust the diacritics to look nice. However, this combined character doesn't have a Unicode number and won't activate in apps like Illustrator.
Any help would be most welcome. Thank you!