I'm in the process of wrapping up the final release of Cormorant for Dave Crossland to ingest into Google Fonts, and of course just now some of my fonts fail to export.
The TTFs worked just fine.
Here's the error dialog: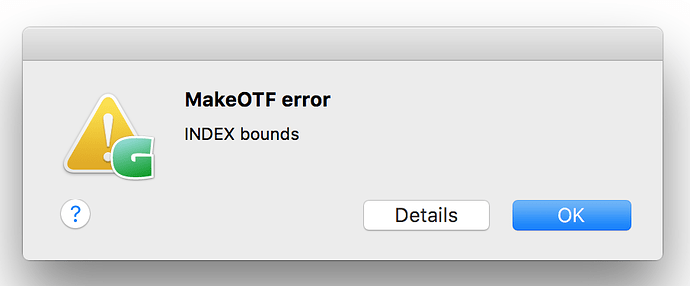 And the generateFont.command console output:
[public-docking-hg-5476: GitHub] $ /Users/thalmann/Library/Application\ Support/Glyphs/Temp/CormorantInfant-Light/generateFont.command 
makeotfGlyphs [WARNING] The total size of the glyph names is greater than the safe limit for Mac OSX 10.4.x and earlier by 1451 bytes, and will cause crashes. [font.pfa]
makeotfGlyphs [WARNING] --- Source font: font.pfa
makeotfGlyphs [WARNING] subr stack depth exceeded (reduced)
makeotfGlyphs [FATAL] INDEX bounds

I feel like I've had that problem before, but I can't fix it just by refreshing features or rerunning my custom parameter scripts. Halp?