Hi,
I'm looking for some advice if possible.
I've been following the Multiple Masters tutorial and I would like to double-check something to ensure my understanding is correct.
I'll be starting work on a small font family, which is made up of nine weights and I'm trying to work out how many masters I should ideally have. During the tutorial, I came across the following breakdown image.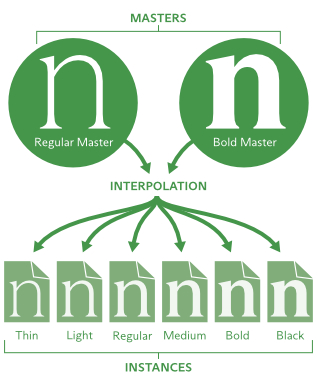 Based on this, would two masters be enough? The font family I'll be making contains the following weights: Thin, Extra Light, Light, Regular, Medium, Semi Bold, Bold, Extra Bold and Heavy. In this case, I would make Regular and Bold masters, or should I choose different weights for the masters?
Thanks for taking the time to read this and I appreciate any advice.