Hi all,
In macOS 13 Ventura, the Font Book application has a new feature that it can sort fonts by different language in sidebar, such like English, Japanese, Traditional Chinese, Korean and so on. (It's not Smart Collection / Collections which can be customized, it's a built-in feature.)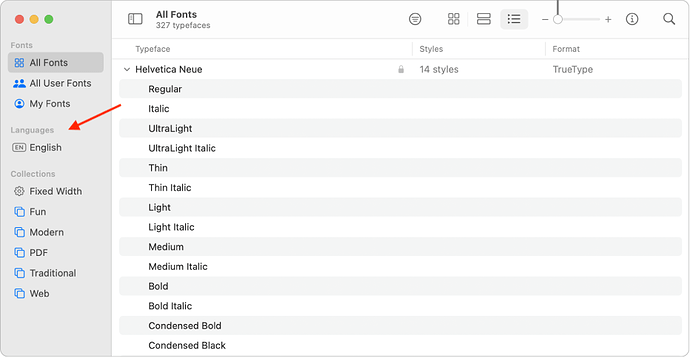 The built-in fonts have be classified into correct language, however, the user installed font doesn't, even it is a Japanese / Chinese font, the Font Book still classify it into English category.
I'm confuse about the mechanism. In macOS 12 Monterey, there's a "LanguageAlphabets.plist" file in Font Book package to recognize the language of font by matching the glyphs whether the font file contains or not.
However, in macOS 13 Ventura, the Font Book application has been redesigned and i can't find the *.plist file anymore. I think Font Book in these two version have different definition of "launguage".
Here's my question,
Does anyone know the mechanism of language category in Ventura's new Font Book application?
Can I set it in Glyphs metric or font info?
or I need to compile the *.ttx (XML format of depackaged *.ttf and *.otf) files?
Thank you very much.