Hi there,
If you could post some good handwritten examples of Germandbls I would be gratefull
Thanks,
Michał
You mean as in a handwritten cursive script?
Not neccesary cursive. Rather informal script fonts. Like these of Laura Worthington: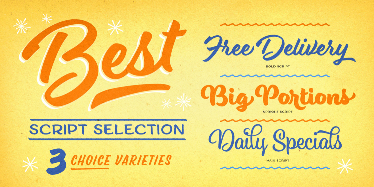 Not sure if it makes much sense to include the capital ẞ for "handwritten" typefaces! Because it's unusual to set them all caps and there are no nouns starting with this letter.
I would agree, then again, it really depends how you intend your typeface to be used. If it's supposed to be in handwritten style, I personally can only say that, even as a German, I have never written a ẞ in my life, at least not when writing normal text.
In any case, Ulrike Rausch's fonts come to mind, at least her two newest releases include the ẞ.
Good point! Thank you.
If you are serious about doing this, consider making entirely different design for all-caps (using contextual alternates, case feature, whatever). Zapfino Extra has small caps font, and your Laura Worthington example also has a separate caps style. My Tabulamore Script does it too, but within the same font using contextual alternates. I have a standalone ẞ in Tabulamore but do not expect it to be ever seen unlike the small caps variant.
Ah, there might be a misunderstanding going on. Are we talking about Germandbls or germandbls? ẞ or ß?
ẞ is the capital form of ß. ß is used a lot, and a font should definitely include this. ẞ was only recently officially introduced to German typography, you could argue that its use is so rare that a font can live without, but if you do include it, of course make it a visually completely distinct form.
The form(s) Toshi chose in his Tabulamore are a great example of how these forms can be distinguished.
That looks very good. Do you have a capital ẞ as well?
Given the casual look of the font, to a German speaker it might be apparent, but to an English-only speaker it looks too much like a /B. The top needs to be a bit smaller and drawn more in the manner of the Dresden-style of the letter, which is the most common.
An English only speaker really won't care, and I doubt it will ever be used anyway.
It's good enough for Apple's text-in-image recognition
Although it recognized the letter as a lowercase ß amidst capitals.
It think it's fine, but I would also prefer a flatter top.
I like these renditions of "ẞ ß B b" (picked randomly from many):