Hi there,
I can't find a way to export a Glyph 3 file to version 2. Help, pls.
TIA
Go to File → Font Info… → Other and set the file format to version 2.
BTW, I need it because HT Letterspacer is behaving erratically on version 3
Ramiro,
Letterspacer don't work properly in G3.
Cheers,
Edu
I have fixed the glyphs 3 issues, waiting for an invite to the repo.
Hi Georg
I just sent an invite to the repo. Thanks!
Thanks.
It is fixed now (one might need to remove and re-install to get the new version).
And the config files need to be updated. There is a new column that holds the "case" (the case is not stored in the subCategory any more).
The new format is like this:
*,Letter,*,upper,1.25,H,*,
*,Letter,*,smallCaps,1.1,h.sc,*,
*,Letter,*,lower,1,x,*,
*,Letter,*,minor,0.7,m.sups,.sups,

I am trying to save a file back to version 2 format, but am getting the following error message.
Can't save "Preview Remove Overlap" flag in format 2.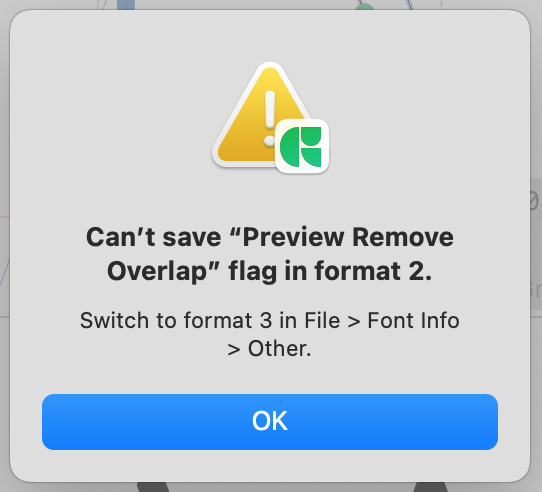 Could you point me in the direction to get around this? I currently have no custom parameters set.