How to set parameter if I want to use Chinese as the familyname of my exported font?
Try localizedFamilyName in File > Font Info > Font.
I tested it ,but it didn't work.
How did you set up the parameter exactly. And how/where did you test.
I setted the parameter in the Font Info > Font,when I export a .ttf file,I opened in in the Windows 7,I not show my Chinese font name.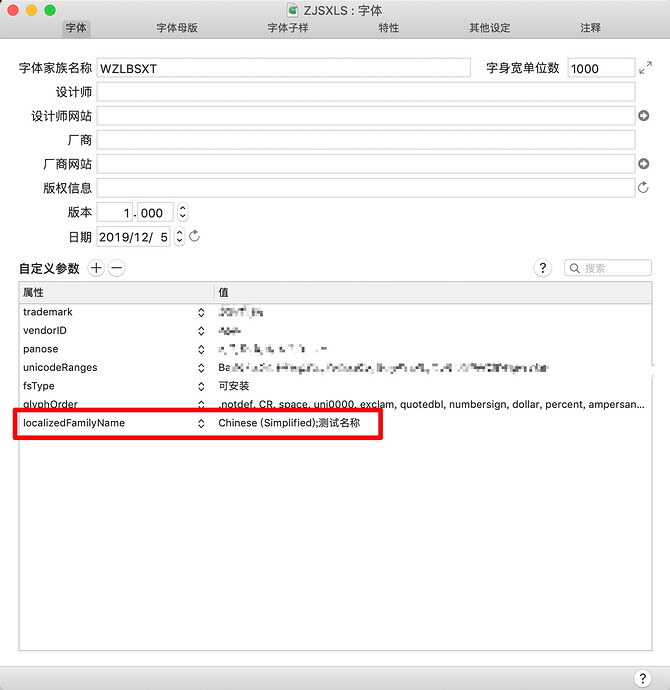 Do you have a font that shows the correct Chinese font name in Win7 that you can send me? Then I can compare why the font from Glyphs is not working.
I've sented you a message in the station. Please check it,Thanks!
It seems that the font viewer uses the FullName from the name table. To set that, you need to use the Name Table Entry custom parameter. (I'll see if I can improve that in a future version.)
"Name Table Entry" = "4 3 1 2052;ChineseFullName";

I set the parameters as you said, but it didn't work.I sent another station message. Please check it.
The font you send me had the Chinese name in the default slot. That is supposed to use roman letters only (technically it would be OK but it will create cross platform problems. And the first example you send was set up correctly and I could reproduce the correct name table. I can't test it myself as I don't have a Chinese Windows.
Sorry, I misunderstood your instruction yesterday. Today I tried again. It's OK. Thank you very much!