When first starting with Glyphs around 2015 I had to deal with old Glyphs files, which had the problem of unspecified automatic alignment, which required figuring out what to fix and what not to fix. But at the time that meant files that were a year or more old. This morning I get this message with yesterdays file, after updating from 3146 to 3147: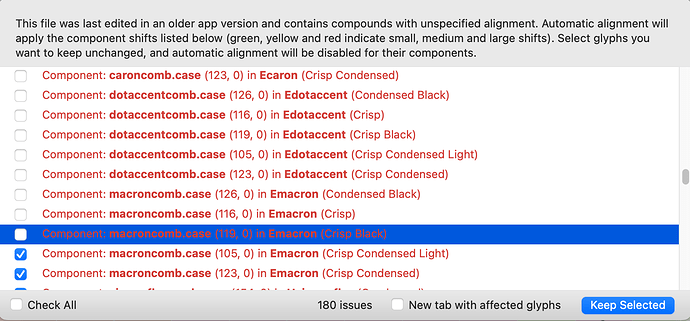 I am in the middle of drawing italic capitals, with the upright as starting point. So maybe that is why the composites are a bit messy. But I do want to keep the automatic alignment. That means manually unchecking about 180 check marks. If I don't, then I will have to mouse-click to automatic alignment 180 times over once the base outlines are done.
Therefore I would like to suggest to skip the older version check if the app version differs less than 2 or the file is less than 24 hours old. Alternatively there might be an Uncheck All option in the dialog, next to the Check All.
Thanks,
Jelle