Hello!
I have created a font in Glyphs Mini 2 and it all looks fine in there. When I export the font and type some text in Word, the kerning is off and the spacing between letters is different than in Glyphs.
Glyphs at the top, Word at the bottom: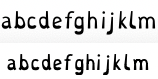 Notice that, in Word, the space between "f" and "g" is larger and between "g" and "h" is smaller. What can I do about this?