To keep it simple, let us say we have an Arabic and Latin typeface in Regular, Italic, Bold, and Bold Italic styles. It was decided to make the Arabic Italic slant to the left with the flow of the Arabic script RTL while keeping the Latin slanting to the right with the LTR direction.
The Arabic and Latin character sets exist in the same file.
The Italic style is linked to the Regular as the Italic for the Regular.
The Bold Italic is linked to the Regular as the Bold & Italic of the Regular.
For the Latin, all work well with the rendering of the correct styles and the link to the B and the I buttons. The correct Italic, Bold, and Bold Italic work.
For the Arabic, the Bold works well, but the Italic and Bold Italic don't render the correct Arabic Italic letters and instead, a slanted version of the normal Arabic appears.
Screenshot attached for clarification.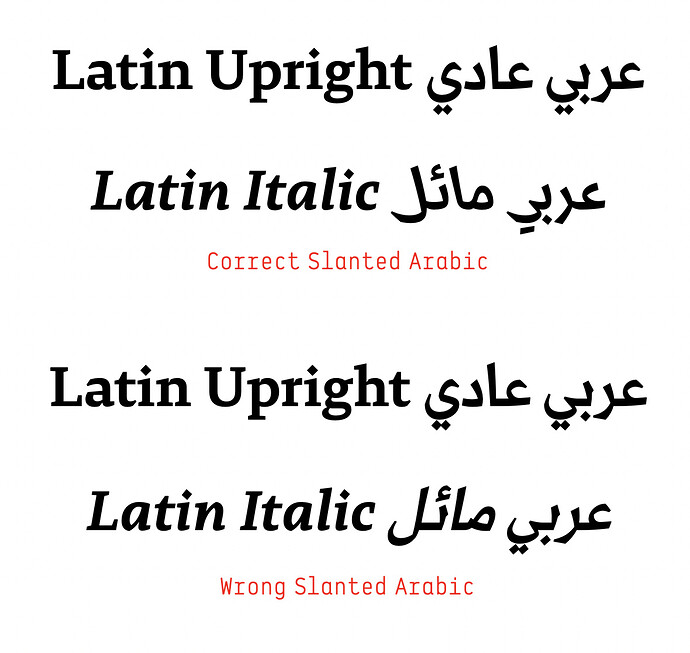 Is there a need to add any custom parameters for the Arabic Italic style to inform MS Office Apps to use the drawn Italic Arabic instead of slanting the Normal Arabic?
Is there a way to solve this problem while keeping both scripts in the same font? Or the only way is the split the Arabic from the Latin and give it a name different than Italic and not to link the Italic to the Normal style?
Additional info, for styles that are not Regular and Bold, like Light or SemiBold, the correct Italic Arabic for the styles appear is selected manually from the styles menu and the "I" button is deactivated after.
Thank you in advance for any suggestions.