Hi,
The auto-generated languagesystem for my Arabic font is like this: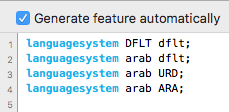 As you notice I have a localized lookup for Arabic language as well which is reflected in this auto-generation.
So far this shouldn't be a problem because that localized substitution doesn't have a different substitution scheme in the default language setting, which is also auto-generated as Arabic. But I was thinking that as I go, I might encounter the cases that do have a different substitution in default setting and it might cause a conflict. So I want to set the languagesystem in a way that the script is defined as Arabic and the default language as Persian. And I set it like this: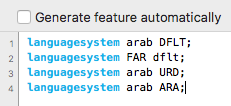 Does it look right to you? I clicked on update features button and it didn't complain!