I've been using the manual TT instructor for a variable font because TTFAutoHint does not yet (as far as I know) handle variable fonts. The manual instructor in Glyphs is a great tool, and it's wonderful that Glyphs can instruct variable fonts, but I've run into a problem and am wondering if there's a workaround.
When Glyphs generates TT instructions, it appears to handle alignment zones by generating two CVT entries, one for the bottom of the zone and one for the top. If a point is closer to the bottom of the zone, the first CVT entry is used, and if it's closer to the top, the second is used. This is usually not a problem, if an alignment zone is no wider than it has to be, but sometimes it produces anomalies.
Here's a test done in Illustrator, with some letters exactly at the font's x-height (848) and some with overshoot (870). The letters with overshoot (nopac) have their tops aligned via a MIAP instruction with a CVT entry of 870; the others (uxyvw) have a CVT entry of 848. (The percentages are Illustrator's zoom factor, and the type is 12pt: I've magnified the image to 200%. Sorry, I don't know the pixels-per-em values.)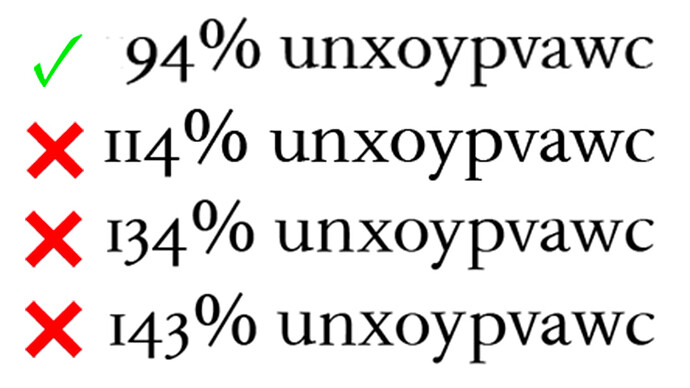 The top line is correct, and it's what you mostly get. In the next two (114% and 134%),
uxyvw
are lower at a resolution where they ought to match
nopac
. At 143% there's a truly bizarre effect, probably due to the 848 CVT entry being rounded up while the 870 entry is being rounded down.
Here's my question. If I could, I would want the points in the x-height alignment zone for both uxyvw and nopac to use a single CVT entry so that you wouldn't see these differences at low resolutions. Is there any way to do this?
(I'm using Glyphs version 2.6.2 (1257).