Hi.
a colleague of mine and I are trying to anchor combining diacritics in a Cyrillic ttf font in Glyphs 2.3 on a Mac, but things are not working out as expected.
The first strange thing is that in Glyphs, Latin letters with anchors show all the combining diacritics there where you'd expect them (See image 1 — the forum is not letting me upload more than one image as a new user.)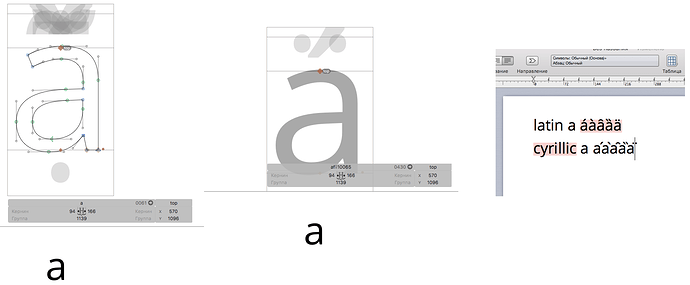 With the cyrillic a (see image 2), only two combining diacritics are showing. On some other Cyrillic letters — no diacritics are previewed even though the letters have anchors.
Why this inconsistency? Why would Glyphs randomly choose some diacritics over others?
What's even worse, when we generate the font, none of the Cyrillic diacritics appear when they should, they are always to the right of the letter (see image 3).
So we must be doing something wrong, but we can't figure out what.
I thought Glyphs only needed appropriate anchors and would do the rest automagically…
I'd be most grateful for any tips.
Tench