Hello!
I'm trying to use this script for a handwritten font which has 2 alternate glyphs for each letter (A-Z, a-z). I've set-up the alternate glyphs as stylistic sets, so the glyph naming structure is 'A, A.ss01, A.ss02 …' and so on.
When I try to run the script on (for example) 'A/A.ss01/A.ss02/A.ss01/A.ss02/A.ss01/A', only the unicode values are being read, so kerning values are only applied to the A (see screenshot example below).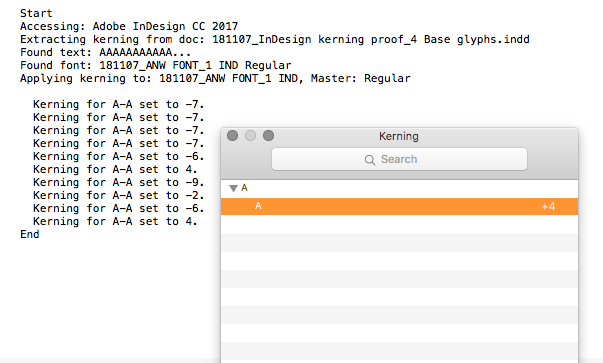 So my question is, would it be possible to modify mekkablue's script to copy kerning values based on glyph names rather than being based on a glyphs unicode value? I think i've located the area of code in mekkablue's script that would need to be modified (see below), but i'm still a novice with python and could do with some pointers, if indeed it is even possible?

Many thanks in advance for any help on this.