Hi all!
This query may be a bit basic, but I've tried a few things and so far I can't figure it out.
There will be some way to visualize the icon file in «graphical mode»?, such as in Glyphs 2. I'm working on Monterey 12.4 and Glyphs 3.1 (3133).
For now I see them this way:

but I expect to work in this way: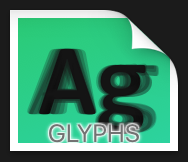 Many thanks in advance.