I am wondering if it would be feasible to be able to assign multiple Layer Colors to a glyph.
The context of this question comes from following the progress of @HugoJ plugin FontDashboard and here
The plugin is a clever way of harnessing the organizing potential of Layer Colors by adding a level of game-like visualization displayed as progress bars.
I know people use Layers Colors to organize in all sorts of ways.
An example of the mock-up of the FontDashboard UI has this type of organization: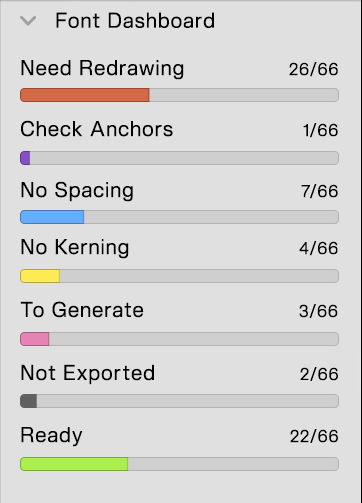 In this context, what if a user wants to select more than one category for a glyph, for example, Needs Redrawing (Red) and Check Anchors (Purple). This would require being able to select multiple Layer Colors which isn't possible at the moment.
In another post @mekkablue brings up the question and challenges.
While I don't have an answer for how this would look in the Glyphs UI without it being visually cluttered…I am curious, are there any thoughts/plans of being able to assign multiple Layer Colors?