Hello everyone,
I'm having trouble exporting my font styles in a manner so they would show up in Adobe in the following order: 1) Optical Size, 2) Width, 3) Weight, 4) Italic
This is what it looks like now: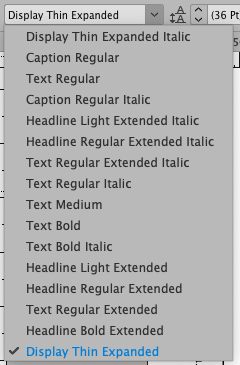 And I would want to be like:
Caption Regular
Caption Regular Italic
Text Regular
Text Regular Italic
Text Medium
Text Medium Italic
Text Bold
Text Bold Italic
Text Regular Extended
Text Regular Extended Italic
Headline Light Extended
Headline Light Extended Italic
Headline Regular Extended
Headline Regular Extended Italic
Headline Bold Extended
Headline Bold Extended Italic
Display Thin Expanded
Display Thin Expanded Italic
Or would anyone suggest a different ordering structure? If so, why?
I read the Naming Tutorial and unsuccessfully tried playing around with the "WWSFamilyName" and "WWSSubfamilyName" custom parameters, but cannot wrap my head around how these work.
I'm really curious if there's a solution to my problem.
Thank you!
Cheers
Jens