I've added superior numbers to my font (and added the sups/superscript feature code to the Glyphs file) and am testing in the Adobe programs with the superscript button shortcuts in the top menu bars, but it creates a faux superscript.


I can activate the proper superior glyphs when I go through the character menu options.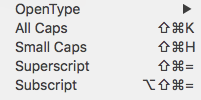 So I'm wondering if there's any way to get the proper glyphs to activate with the buttons (just seems it's quicker that way)?