Hi everyone…
I've got an error when the glyphsapp getting lunch: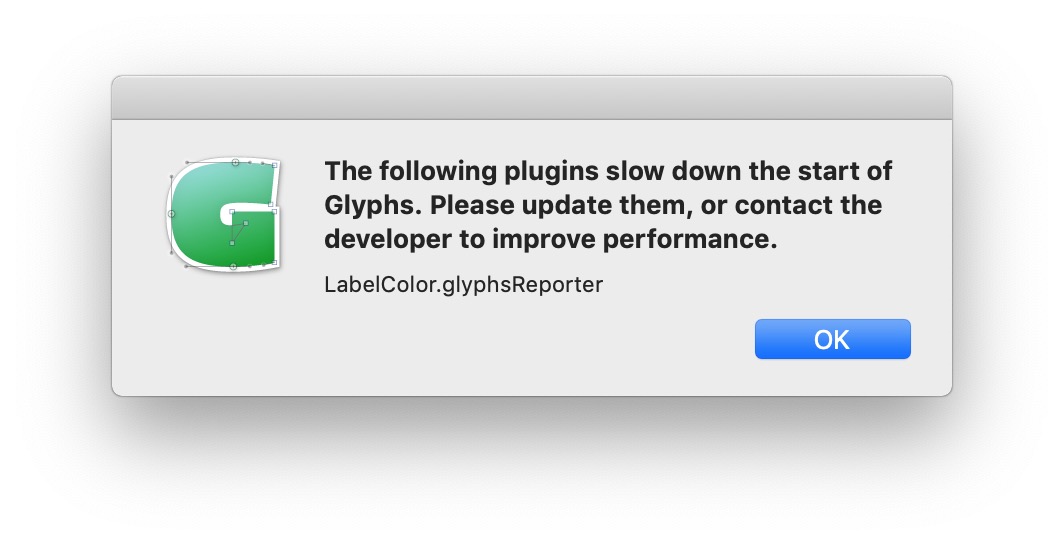 Even I deleted -> LabelColor.glyphsReporter plugin
Thanks!
You had an old version. You can reinstall it from the Plugin Manager.
Thanks @GeorgSeifert
But I've deleted the plugin and the problem still appears!
then you didn't get the right file. And it might show up with different plugins. It will show a different one for each start of the app (when you deleted the one that was in the error message)
I have noticed when Glyphs is launched automatically after system boot, along with other apps, this message also appears with a random plugin name. When Glyphs is launched on its own, it does not show up.
Glyphs 3 (3034) shows the same message regardless of reinstallation or deleting the plugin/script from the plugin manager or manually. Is there any way of fixing it?
This means the plugin needs more than 2.5 second to load (most plugins finish in less than half a second). That is too long. In Glyphs 3, the reason are different but the dialog is still valid.
What plugin is it complaining about?
At the moment is MagicRemove but a minute ago it was Word-o-mat before I deleted it.
What mac, macOS and version of python do you have?
And what machine do you have (just to estimate the impact of the speed of the machine).
mac book pro (2.4 GHz Dual-Core Intel Core i5, late 2013)
I think actually it doesn't slow down the app