Hi everyone!
I am having some trouble with preparing font files for MyFonts for this family:
www.marianna-orsho.com/work/litza
I have been receiving an error for 'Vertical Metrics will not result in clipping on Windows' because there is a set of pictograms in the stylistic sets that extend past the normal boundaries.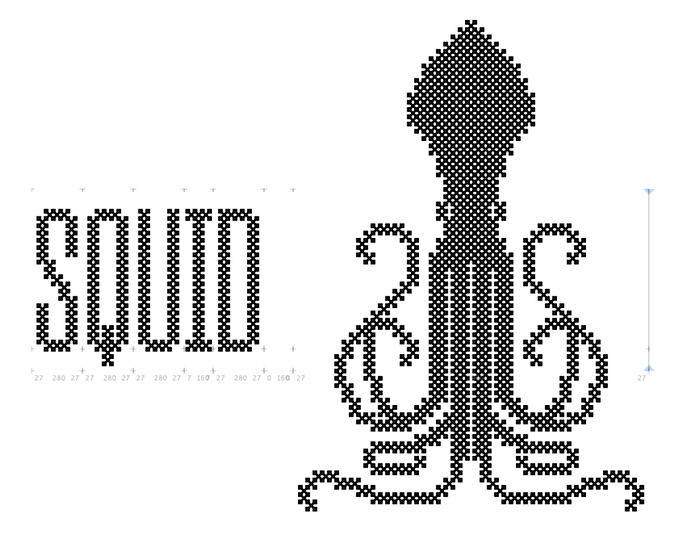 The largest is the squid in the image above.
I was advised to try increasing the winAscent and winDescent (which didn't solve the problem) so I increased the hheaAscender and hheaDescender as well and that solved the error and was accepted by the MyFonts 'Font Validator' checker.
However, when I did this 'test' the squid pictogram was sitting on the baseline and only extending in one direction so those metrics were increased to 2600 for ascenders and ±800 for the descenders in order for it to work.
Since then, I have centered the very large pictograms so they do not protrude only in one direction; the script for highest and lowest glyphs gave me this data for the updated version; top y: 1813.0, bottom y: -973.o.
The font metrics are:
Ascender: 880
Cap Height: 760
x-Height: 760 (All caps font)
Descender: -120
I uploaded the updated version with the centered squid to MyFonts but received the same error about vertical metrics as before, with the winAscent and winDescent set to 1815 and -975. I've been trying to increase those numbers bit by bit to see what will be acceptable but something strange is going on now with the MyFonts checker - it seems to be incapable of reading the file at the same speed as before (last test is still being 'analysed' over an hour later). I have a feeling something has gone wrong but I'm not sure what as the last test (pre-squid-repositioning) was accepted and loaded quickly.
Does anyone know what could be causing the problem or any advice on how these parameteres should be set? There are only a few large pictograms within the font and these elements are decorative options but I would not want to drastically increase the spacing of the entire font because of them.
Any help would be greatly appreciated!