In the "Transformation" palette, Glyphs provides helpful tools for aligning objects, but I wish it gave me more control over the process.
I think Inkscape does this really well. Here is their "Align and Distribute" panel: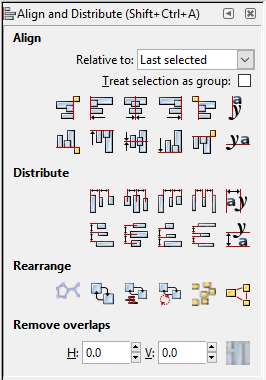 The option "relative to" is really helpful. It lets me choose "First selected", "Last selected", "Biggest object, "Smallest object", "Page", "Drawing" or "Selection". It gives me easy control over which object to move and which to keep in place.
What Glyphs seems to do is to always align things to the bounding box of the selection (i.e. the union of selected objects). That is sometimes what you want, but not always. I most often have the case that I want to align a smaller object to a bigger one (keeping the bigger one in place), which I can't do in Glyphs (or don't know how).
This video shows how it works in Inkscape: https://www.youtube.com/watch?v=mDCQmYHlBEg