Please someone port Adobe's Kerning Analytics to Glyphs:
Have you had a look at Yanone's Space Bar?
Yes, and for what I've seen Space Bar does not display the actual interpolated pairs which is way more useful to spot issues.
Space Bar does display instances.
All in the same line? I am more concerned about spotting and fixing kerning inconsistencies between masters. Come one, Rainer, Kerning Analytics is a more powerful tool.
If you want to use it, no one is keeping you: simply export UFOs, run the app, then reimport the kerning from the edited UFOs.
But really, I do not see what is more powerful about the Analytics tool than working from within Glyphs with Space Bar, where you can see your masters in context rather than just isolated pairs. Plus, Space Bar also gives you sidebearing info.
I suggest you try the free trial in Plugin Manager. And if you do get hooked after all, there is a sale until the end of April. Let me know if you have not gotten the newsletter in that case.
To run Kerning Analytics I will have to purchase Robofont, that's what is stopping me.
Dear Georg,
What is it? a forked version for Glyphs? Why the readme says that Robofont 3 is necessary?
The readme in my repo says that it supports Glyphs. The changes are not in the Adobe repo, yet.
@GeorgSeifert – At the bottom of your Readme you missed removing this:
Kern-A-Lytics is only compatible with Robofont 3.
That means it is not compatible with RoboFont 2, not that it is not compatible with Glyphs.
OK. I see now that the repo contains the plugin for both apps.
I installed and tried to run it under 2.5 but after selecting glyphs I get a blank window. Any idea?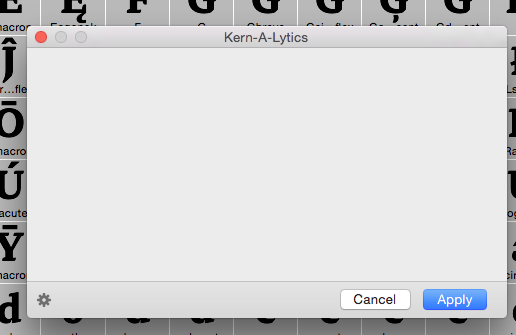 There is something wrong with the robofab wrapper and in can't figure it out.
Pity. Hope you can find the way to make it work.
Cheers.
R.
@anodpixels Why should I? It has little to do with Adobe's Kerning Analytics.
You're right, my mistake, now I saw what that does.
Has any progress been made in bringing Kerning Analiytics to Glyphs? I downloaded and tried it again today but I still get the empty window.