LOOOOOONG story short, I had my capitals only font 99% finished, installed it via FontBook, it worked great in Silhouette Studio, decided to try to duplicate the upper cases as lower cases, kerning didn't duplicate with them, tried grouping them into kerning groups, didn't work, deleted the lower cases, removed the kerning group labels, adjusted a little kerning here and there, uninstalled the first font in order to install the one with the updated kerning, exported, and kerning is no longer there for some letters. Removed all versions of the font from my computer, cleared my font cache per the Glyphs tutorial, kerning is still not there when I reinstalled after exporting again. When I open the kerning window, A-E (the letters I had grouped with lowercases in an attempt to get them to have the same kerning) have 2 versions: one with an @ before the letter, and another that seems like the actual letter and kerning I want. I have NO idea how to remove the @ version, but I think that would fix my problem.
(P.S. This is the first font I've ever made and the first font program I've ever used. Please word your answers as though you're walking a 10 year old through the process. I don't know all the lingo, shortcuts, etc. TIA!!!)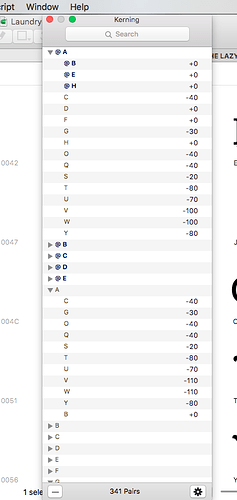 Why urgent? Today is the last day of my free trial and this headache showed me that creating fonts is NOT for me. This will be my first and last and I just want to use the font I made that is completely finished.